reading: Onsite office Massage & Workplace Therapies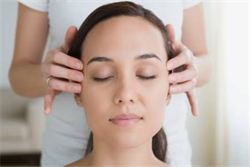 A 15 minute Indian Head Massage motivates hardworking staff as part of a regular office wellbeing day.  Stress reducing workplace therapies can help aches and pains including RSI associated with desk based work.  We can provide a range of wellbeing therapy treatments to your company in Reading, from Seated Acupressure (Onsite Chair Massage) to pampering beauty treatments
Innovative Incentives
There are a multitude of employee incentive and rewards schemes available, however, there could be no healthier option than a relaxing office massage and nothing more indulgent than an office pamper day as a way of rewarding hard working staff.
MARKETING PROMOTIONS& corporate events
With our Pamper Promotions brand, we can provide therapists for your marketing promotions and corporate events in and around Reading. Create a buzz, stand out from the crowd and make a lasting impression with your customers by providing treatments to pamper, indulge and invigorate.