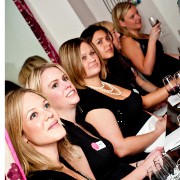 ThirtyFifty wine tasting
Sophisticated & fun
Indulge in pampering treatments followed by wine tasting from award winning ThirtyFifty.  Entertaining and fun, you will pick up tips and facts about wine, comparing styles and grape varieties and learn how to taste and spot quality.
If you are celebrating something special you can choose to book champagne tasting!  When you book both our services, you will receive an additional 30 minute treatment from us and a quality bottle of sparkling wine from ThirtyFifty. We have teamed up to offer you a complete party experience in your home.
This offer applies to parties with a minimum booking time of 3 hours and at least 10 guests (a lower number of guests can be included but the wine tasting costs will be based on a party of 10).  All bookings and promotions are subject to availability.